UPDATES
New mural at Easton Community Centre, Bristol
A new mural is being created in Easton, Bristol, and there will be a public event there on Friday 10th December 2021. Find out more.
Tribute to Manjeet Kaur
Manjeet Kaur, campainer and contributor to Disability Murals, died in April 2020. Read our tribute to Manjeet.
Honouring Kamil: Exploring Disability and Migration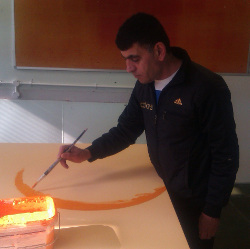 We held an event on June 29th 2018 in honour of Kamil Ahmad a disabled asylum seeker who was murdered in Bristol in 2016. Kamil was very involved in Disability Murals.
Find out more about the event.
If you'd like to make a donation towards further work on disability and migration, please click here
Welcome to the Disability Murals website.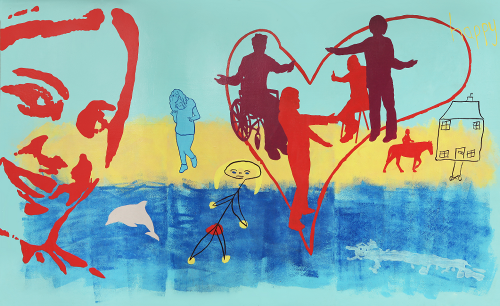 We hope you enjoy looking at our artwork. Please contact us if you would like to discuss using our exhibition of photographs, or if you have any questions or to tell us what you think about it.
We are working with disabled people in different parts of the country to create artwork showing people's main messages and ideas.
"The work gives us a feeling of solidarity...makes us feel part of a wider movement, national and international."
"It was so good what we did together. All of us disabled people. We will never forget. We can't ever forget because we have proof, there it is what we did. It is so good. We won't forget."
Here you will find information on what we are doing, why we are doing it, who we are working with as well as the results of our work as they are completed.
Here are some short films about the creation of our murals.
'I'm an asylum seeker, it changes everything'. Disabled asylum seekers use the mural in
Bristol
to describe the challenges they face.
You can also watch films about our Frome mural and Norwich mural.