New! Mural on Easton Community Centre, Bristol
A new mural brings together the messages and experiences of people who are disabled and / or seeking asylum, living in the Bristol area. It will be installed on Easton Community Centre, Kilburn Street, Bristol, BS5 6AW.
The mural includes contributions from people with different impairments, living in a wide range of circumstances, such as homeless asylum seekers, deaf and disabled activists, university students and staff. People were asked what they would most like others to understand about the current situation. The results show ongoing acute and preventable injustice. Despite the huge differences in people's life experiences there are many similarities in the barriers faced. The disabling impact of the asylum system is clearly visible. There are also positive messages of the impact of campaigning together and of greater remote access during lockdown enabling some people to attend previously inaccessible events. The mural highlights the urgent need to work together to build solidarity and greater justice for all.
There will be a public event to celebrate Human Rights Day and Disability History Month, on Friday 10th December, 2021 at 11am.
Come and see the mural taking shape, learn from the contributors, and enjoy some refreshments.
This will be a hybrid event, with in-person and live online access – please register at:
https://www.eventbrite.co.uk/e/celebration-of-new-mural-at-easton-community-centre-tickets-205506674997
Let us know any access needs for the event, including interpreters or help with transport within Bristol.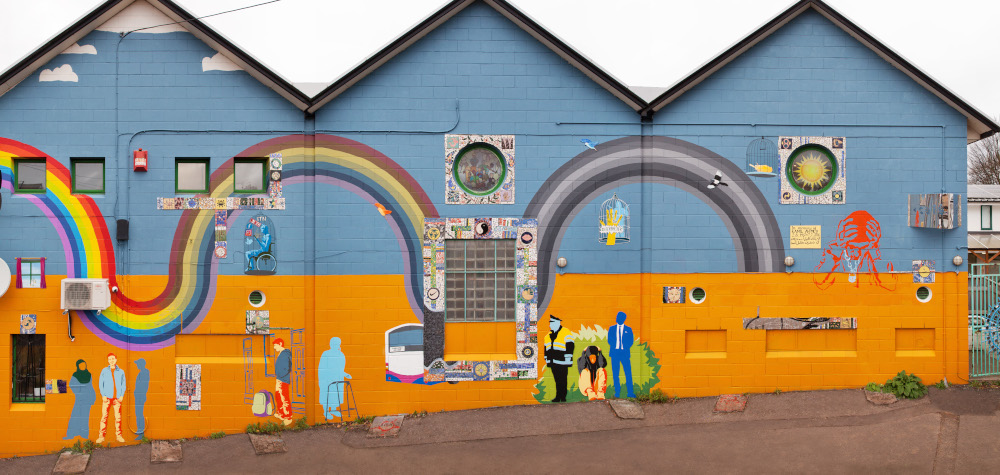 Note regarding image: the image shows the background for the mural, before the main messages have been attached. There are three rainbows. The one on the left is full-colour, in the middle it is losing its colour and on the right it is different shades of grey.
The project is supported in multiple ways by:
Thinking Futures Festival, Quartet Community Foundation, Eastside Community Trust, The University of Bath Public Engagement Unit, Bristol Reclaiming Independent Living, Bristol City of Sanctuary, Bristol Hospitality Network.