Norwich
We worked with disabled people from a range of different circumstances including: ex-servicemen; parents; lesbian, gay, bisexual and transgender; and people living in particularly isolated situations. The mural is installed on the walls of the cafe in Chapelfield Gardens in the centre of Norwich.
Here is a video of the making of the Norwich mural, and the opening event.
Text only description of the video
The Mural
Back to top | Next section
This mural shows positive and negative sides of life:
1. Positive Side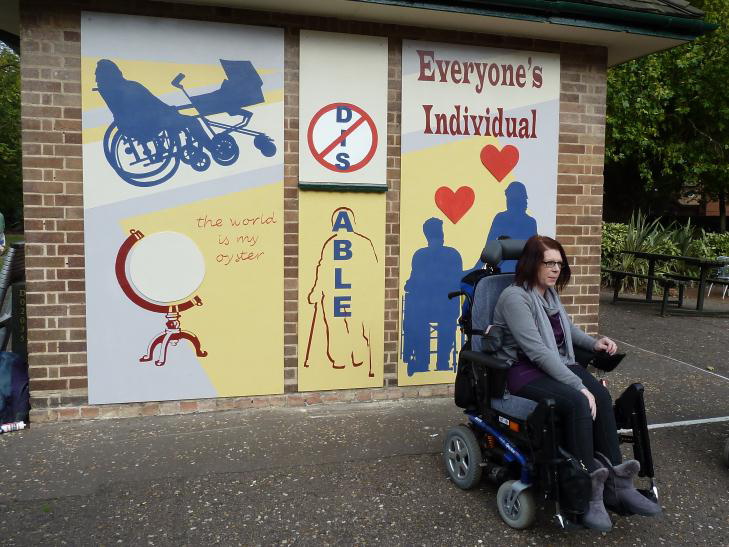 The main messages that participants wanted to convey with this side of the mural are that:
We are disabled and we enjoy life!
We can do anything as long as we get the support needed.
We have the same need for love as anyone else.
We can be good or bad parents just like anyone else; perhaps having a disabled parent makes children grow up more tolerant.
Everyone is different and individual, this should be celebrated.
2. Negative Side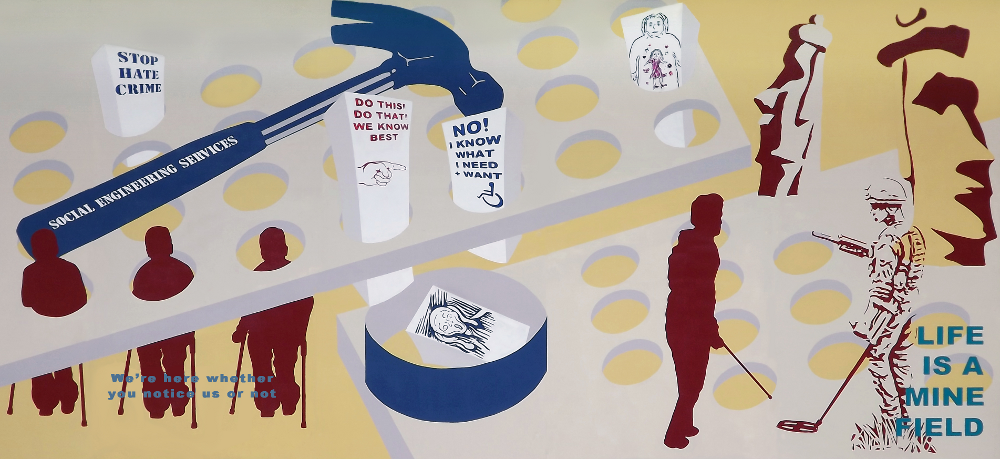 This mural was developed after wide ranging discussions. People described great difficulties finding appropriate services. People spoke of being offered personal budgets only to find the services they need do not actually exist. Many people described pressure to conform to 'standard' shapes and needs - or of feeling like square pegs being pushed through round holes.
People spoke of frustration at being ignored or told by service providers to come back in a few weeks - as if it's possible to disappear in the meantime.
Ex-servicemen described how life continues to feel like a mine field long after leaving the services. In the armed services everything is provided, people are trained to obey orders and to have an emotionless response. Support is needed to adapt to civilian life and to access public services.
Post Traumatic Stress Disorder (PTSD) often occurs years after a traumatic event, making it difficult to prove that it is attributable to the services. None of the participants get a disability pension from the Ministry of Defence.
One participant described how during the course of our conversation he checked every passing car in case anyone was going to shoot out of one.
People expressed anger at the lack of human rights in the mental health system, describing being forcibly given drugs whose side effects are worse than the original difficulty.
Creating the Mural
Back to top | Next section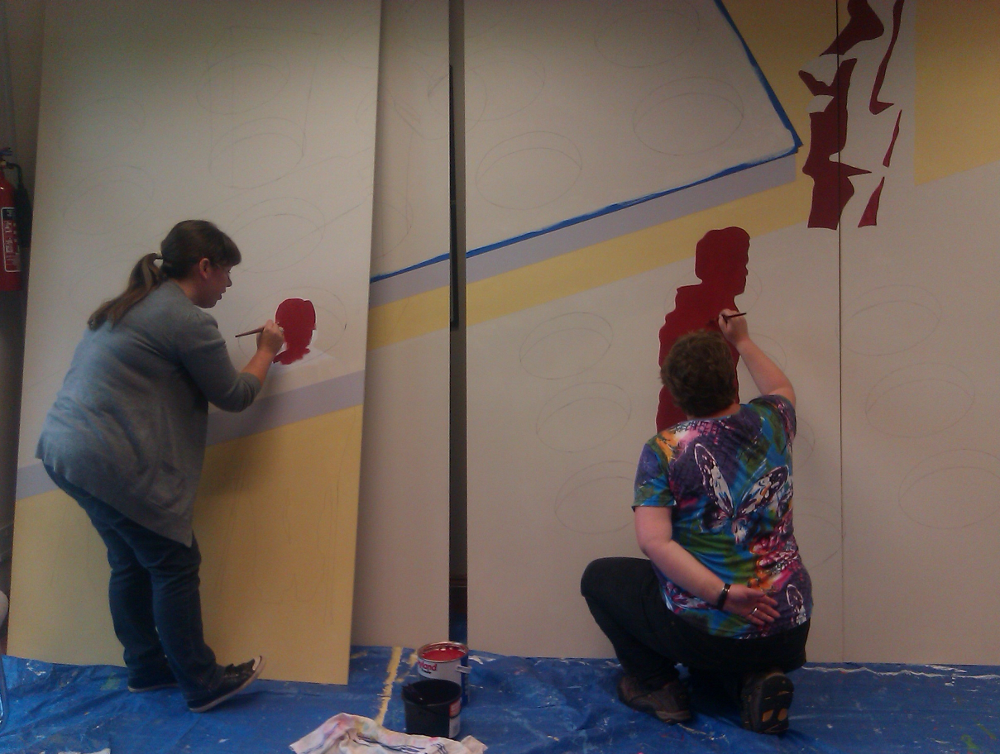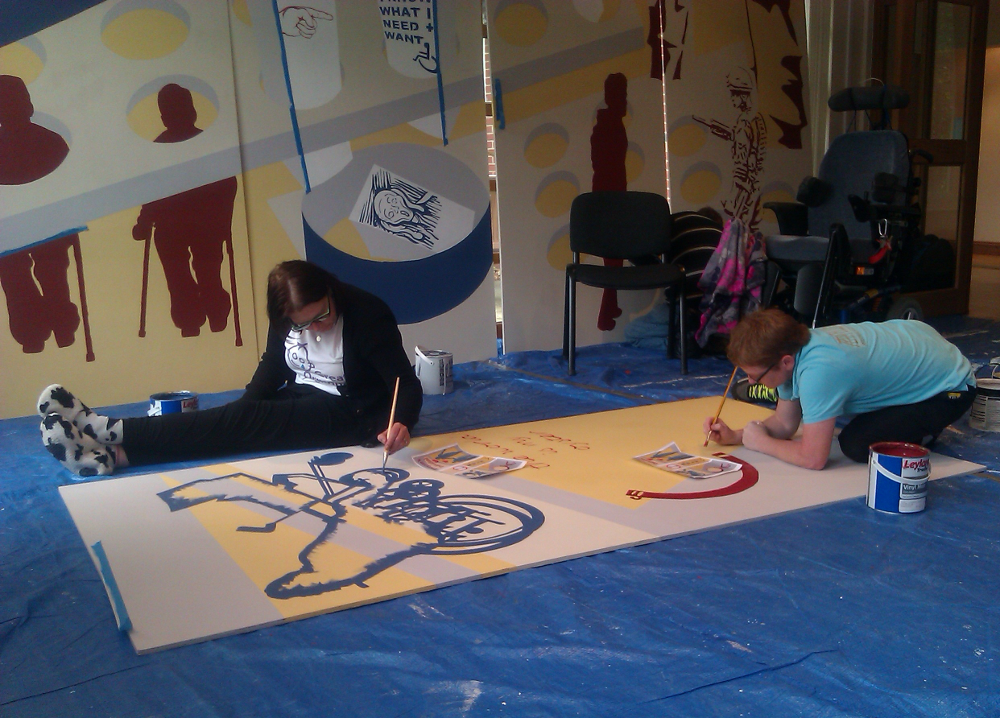 The Opening Event
Back to top | Next section
There were great difficulties getting planning permission in Norwich. This made the opening very last minute and less well attended. But there was media coverage and very positive feedback.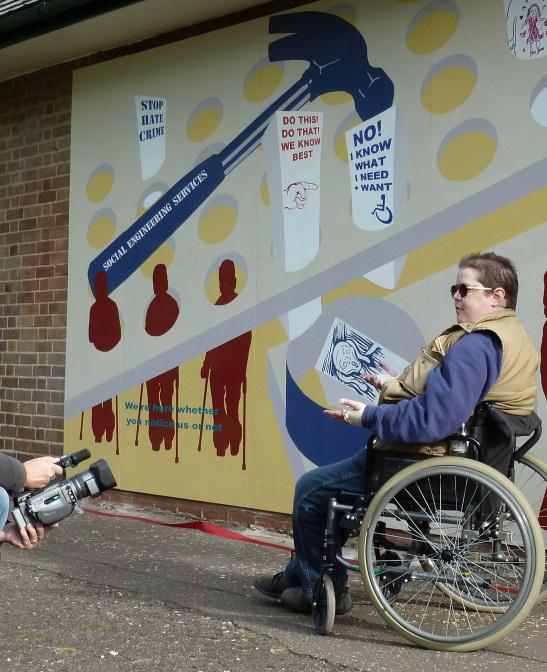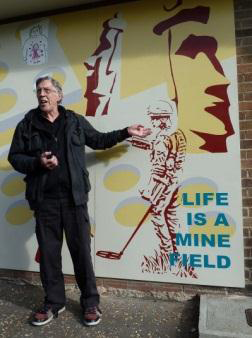 What people said
Back to top
Participants

The mural opened people's eyes to the fact that everyone's an individual and that services need to fit us, it's not good enough to force us into unsuitable services... It's harmful... A picture speaks 1000 words.

The work gives us a feeling of solidarity...makes us feel part of a wider movement national and international. Its great to be together with people from different backgrounds or cultures. We use the art to exchange ideas, issues, problems, solutions. We all learn from each other. It brings the community together.

We are all immensely proud of what we have done.

You can't stick us in a box, we're all different.

We're over the moon about it. We had fun. It gave us a chance to air our voices. We're using part of the mural for our logo. It's brilliant.

If someone had said to me before that you could get your messages across through pictures I wouldn't really have believed them.

I have spoken to lots of people about it. One lady I spoke to hadn't seen it before and went straight away, looked at it and really understood what it was about.

It was good fun.

It makes a real difference seeing the end product. In other projects I'm involved with, you give all this information but you don't get anything back.

After the first workshop I was thinking where is this going? But it turned into reality!

I was talking to someone on the train about it. She works at a children's hospice, she went and told people about it, then went and took the children to see it.

I was worried because I'm no good at art. But people shouldn't be put off by not being good at art.

Andy did a brilliant job of interpreting our pictures.

Made me feel more worthwhile, like I could contribute something.

It's absolutely fantastic. Everyone's responding positively. It's had a huge impact. People are realising that services don't fit. This project was the tipping point.

It has changed so much. It's magical. It's all to do with the mural.

I'm so proud of it.

The mural is so powerful, it's amazing.

It's great, it's really empowering.

By using pictures/clay etc at the workshops I think people found it easier to openly discuss their inner thoughts, frustrations and emotions.

Attendees

I thought it was a brilliant piece of work and really pleased to have been there!
In addition, the Norwich Evening News published the following article about the mural: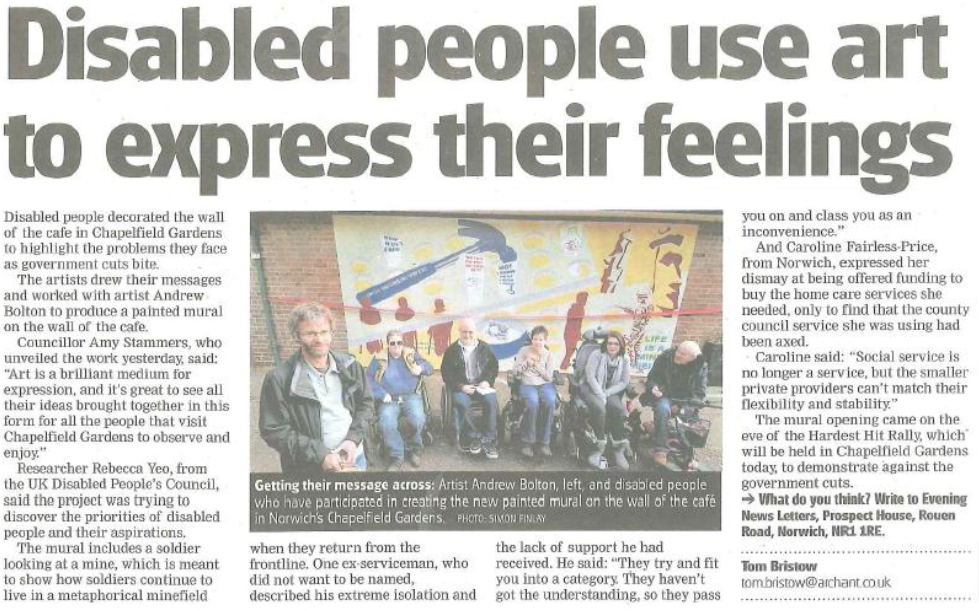 Disabled people use art to express their feelings
Disabled people decorated the wall of the cafe in Chapelfield Gardens to highlight the problems they face as government cuts bite.
The artists drew their messages and worked with artist Andrew Bolton to produce a painted mural on the wall of the cafe.
Councillor Amy Stammers, who unveiled the work yesterday, said: "Art is a brilliant medium for expression, and it's great to see all their ideas brought together in this form for all the people that visit Chapelfield Gardens to observe and enjoy."
Researcher Rebecca Yeo, from the UK Disabled People's Council, said the project was trying to discover the priorities of disabled people and their aspirations.
The mural includes a soldier looking at a mine, which is meant to show how soldiers continue to live in a metaphorical minefield when they return from the frontline. One ex-serviceman, who did not want to be named, described his extreme isolation and the lack of support he had received. He said: "They try and fit you into a category. They haven't got the understanding, so they pass you on and class you as an inconvenience."
And Caroline Fairless-Price, from Norwich, expressed her dismay at being offered funding to buy the home care services she needed, only to find that the county council service she was using had been axed.
Caroline said: "Social service is no longer a service, but the smaller private providers can't match their flexibility and stability."
The mural opening came on the eve of the Hardest Hit Rally, which will be held in Chapelfield Gardens today, to demonstrate against the government cuts.
--Tom Bristow