Easton
Disability and Migration: A mural for social change
Mural bringing together Deaf, Disabled and Asylum seeking people, 2021
A new mural brings together the messages and experiences of people who are disabled and / or seeking asylum, living in the Bristol area. It is installed on Easton Community Centre, Kilburn Street, Bristol, BS5 6AW.
Here is a short film about the mural and the messages within it:
Click here for text and audio descriptions of the mural in Arabic, Farsi, Kurdish (Sorani) and Pashto.
انقر هنا للحصول على أوصاف نصية وصوتية للجدارية باللغة العربية برای مشاهده متن و توضیحات صوتی نقاشی دیواری به زبان فارسی اینجا کلیک کنید کلیک لێرە بکە بۆ دەق و وەسفی دەنگی دیوار بە کوردی
په پښتو کې د دیوال د متن او آډیو توضیحاتو لپاره دلته کلیک وکړئ Click here for a video description in British Sign Language.
Click here to read about our other Bristol mural (2012)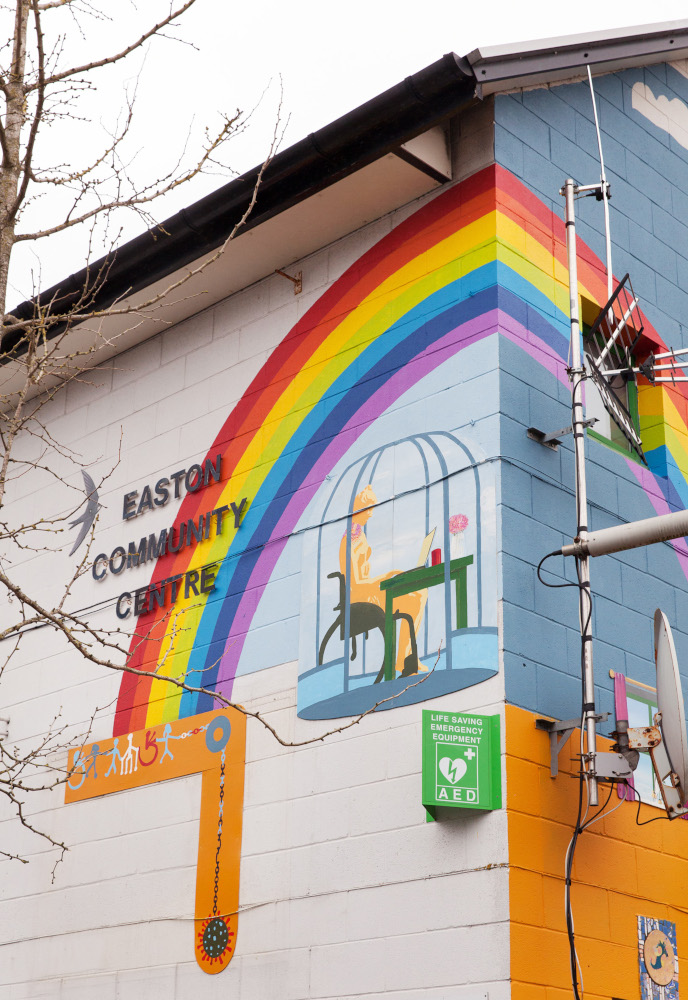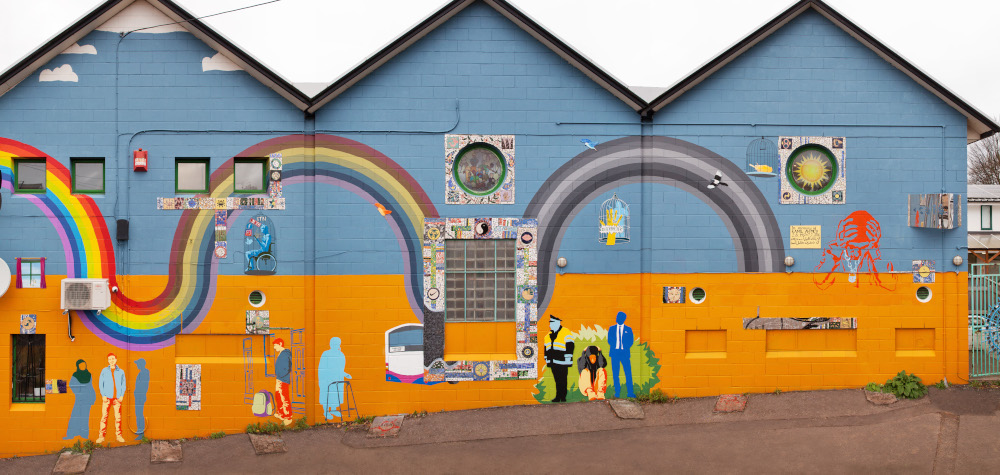 The completed mural. Photograph: Mark Simmons
The mural includes contributions from people with different impairments, living in a wide range of circumstances, such as homeless asylum seekers, deaf and disabled activists, university students and staff. People were asked what they would most like others to understand about the current situation. The results show ongoing acute and preventable injustice. Despite the huge differences in people's life experiences there are many similarities in the barriers faced. The disabling impact of the asylum system is clearly visible. There are also positive messages of the impact of campaigning together and of greater remote access during lockdown enabling some people to attend previously inaccessible events. The mural highlights the urgent need to work together to build solidarity and greater justice for all.
There was public event to celebrate Human Rights Day and Disability History Month, on Friday 10th December, 2021.
This mural is made up of messages from Disabled, Deaf and asylum-seeking people in Bristol 2021
On the left, a full colour rainbow represents a positive vision of how things could be.
In the middle, a rainbow of faded colours represents things changing for either better or worse.
On the far right, a grey rainbow represents the worst injustices.
Below the colourful rainbow, a wheelchair user sits comfortably, sharing ideas. A chain of interconnected people provide help and services to each other. However, moving to the right, this chain is more fragile. Disabled students explain how government response to Covid pulls the chain apart.
People seeking asylum describe the disabling effects of government policy. Under the colourful rainbow, a group of people chat happily. Under the fading rainbow, one man stands with his backpack next to him, leaving a house. On the right, the same man is homeless, crouching in a bush with a black hood shading his face. Without food, shelter or hope for the future, he says asylum policy made him 'lose my mind'. A police officer and a politician stand together ignoring him.
People with impairments which make it hard to leave their homes, are often told that it is impossible to join events from home. Yet during lockdown, events from theatre to pub quizzes or university lectures became accessible. One person describes the frustrations of this access being removed again, while she is left seeing the world through her window. A vase of dead flowers stands in a window.
To the right, a woman holds out some coins and watches a bus drive away without her. She describes feeling shame at having no bank card with which to buy a ticket. If buses and shops refuse to take cash, life becomes even harder for asylum seekers and others without bank accounts.
The mural includes three cages hanging from the sky:
A wheelchair user is surrounded by confusing information from social and mainstream media.
A deaf person has arms out signing 'Where?'. In front of her there is a hand with the words, 'Where is the Interpreter?'.
The final cage has a dead canary, like miners used to warn of gas leaks. This mural warns that urgent action is needed to save lives.
Beyond the grey rainbow, there is a drawing of Kamil Ahmed, a disabled asylum seeker who was murdered in Bristol in 2016. He contributed this image of himself holding his head in despair to a mural in 2012. We seek to build solidarity in his honour.
Please now go through the mural messages in reverse. None of the injustices are inevitable. How can we extend the colourful rainbow?
Film of a related murals
project in Bolivia